Creep #2 – Plague mask altered nesting doll set
04/09/2015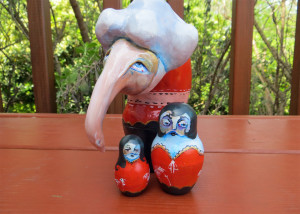 This doll is up for grabs over in my shop!
Just finished sculpting and painting this altered nesting doll set.  3 piece wooden nesting dolls, largest doll modified with polymer clay.  Painted with acrylic paint and a nice shiny glaze.  Fun project!  I had some dolls leftover from a few years back when I painted some other sets.
I have one set left, but I may just grab up a few more blanks to work on.
Comments
comments